FAQ
What is the ultimate goal of this program?
To improve the world at a grand-scale by increasing the productivity of the next generation
What inspired the Techie Youth initiative?
The motivation was derived from observing other people's random acts of selfless kindness
Who is eligible to enroll in the Techie Youth program?
Any youth who is in foster-care or who has recently aged-out is eligible. We also accept all youth who have genuine dire-need to establish a life-changing career in tech; many of our students are homeless-youth, underage single-mothers, transgendered or LGBQ, in juvenile justice "2nd chance" programs, etc. Applicants must be old enough to be legally-employed.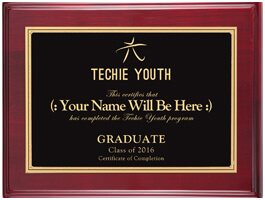 What do students receive upon completion of the Techie Youth program?
Graduates of Techie Youth receive a certificate of completion in the form of a diploma-plaque, and assisted IT-career placement through priority interviewing opportunities that are exclusive for Techie Youth graduates.
Thanks to our generous donors, graduates in some Techie Youth locations are rewarded with premium tickets to sporting events and a free laptop.

Who are the kids in foster care?
Most are just regular kids who were born into an irregular environment of severe abuse and/or neglect.
The video on the left is just a sample of the 100,000+ kids in the US foster care system.
Are foster care kids juvenile-delinquents who cause crime?
No, kids who commit crimes are typically in the care of their state's juvenile detention system; children in the foster care system are innocent victims of their parent's irresponsible actions.
Youths who spend all or most of their adolescence in the foster care system often end up following negative-influences that lead them to commit criminal actions, but they did not start out this way and the Techie Youth program is designed to prevent that from happening years before they succumb to it.
What will happen to kids who don't enter the Techie Youth program and age-out of foster care?
- Within 1 year nearly HALF of the girls will become pregnant
- Within 2 years 1 in 4 will be incarcerated
- 1 in 5 will become homeless