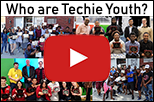 Techie

You

th
Are you ready to "give" thanks by paying it forward?
You can save children's lives with technology while
dramatically reducing new cases of homelessness
Over 80% of homeless people


were formerly youths in foster care

Foster-care youth aged 18-21


"age out" of the system and are essentially abandoned to be on their own in the world without any preparation or guidance

25,000 youths "age-out" each year


most end up living on the streets or in jail, drug addicted, involved in crime...

It is never the kids' fault


nearly all of them enter foster care due to severe parental abuse or extreme neglect
You are capable of fixing this, learn how...
Nearly 100% of aged-out youth drop out of school, have absolutely no parental or adult guidance, no life skills, no qualifications and no sustainable living arrangements.
Techie Youth is a NY-based 501(c)3 not-for-profit charity