60+ NYC Foster-Kids & At-Risk Youth are Pivoting their Lives at Techie Youth this Summer
Bushwick, Brooklyn, NY - Aug. 1, 2017 - Techie Youth (https://www.TechieYouth.org) is training 60+ youth to begin computer-technology careers via a free daily 6-week program geared for youth from the most-extreme life situations. All participants in the 2017 summer-program are either homeless-youth, in foster care (kids living without parents), pregnant/parenting teens, in 2nd-chance juvenile-justice programs or have similar dire-needs to completely redirect their lives to become self-supportive career-professionals.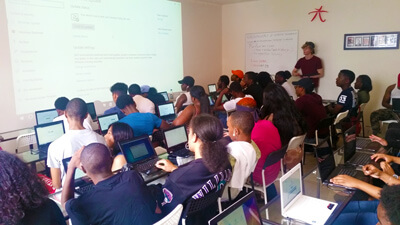 Classes are taught at the Techie Youth EnterpriseDB Center in Bushwick, Brooklyn by a team of teachers and teacher's aides that provide individualized attention to every student, and ensure that each student is engaged and mastering the content. The unique curriculum include lots of hands-on learning, including fully disassembling and then reassembling computers - all students learn to do this on the very first-day of class! The curriculum was uniquely created to fast-track youth into IT-careers, as it was based on the hiring-requirements of entry-level computer-technology jobs.
Techie Youth focuses on serving teens and young-adults who have experienced the most-traumatic early-life situations. Among any Techie Youth class there will be minors who have already served incarceration sentences of a year or more, kids who were abused and neglected in every way imaginable, teenage parents living in homeless shelters, youth with visible gang tattoos, and bullet and stab wounds, etc. The most-phenomenal facet is that each of their lives will be completely redirected towards positivity and financial self-sufficiency after just 150-hours of classroom time at Techie Youth.
"The Techie Youth secret-sauce that enables us to engage with youth who have had severely-troubled upbringings and guide them to success is that we provide each and every student with opportunity and positive-attention; it sounds trivial, but those are two facets that many of them have never in their life received prior to enrolling in our program."
-Eric David Benari, Founder & President, Techie Youth
The 60+ students of the summer-2017 semester will be graduating on Aug. 10, 2017. Previous Techie Youth programs have already yielded nearly 80 graduates since the first class in November of 2015.
The Site Manager for the Techie Youth EnterpriseDB Center, Manny Acosta, has an exceptional ability to relate to the youth on common-ground while building up trust and camaraderie that encourages students to strive to excel in the program. Manny has spent nearly his entire childhood in foster care, from age 2 until emancipating (aging-out) at 17 and was raised by his foster-mother, who is retired after 36 years on the job as a Senior Parole Officer.
Student-participants are referred into Techie Youth through collaboration with the NYC Department of Youth & Community Development (DYCD) and several affiliated organizations including the NYC Administration for Children's Services (ACS) and the Center for Alternative Sentencing and Employment Services (CASES) which provides convicted-juveniles with effective alternatives to incarceration.
About Techie Youth
Techie Youth (https://www.TechieYouth.org) is a 501c3 registered charity of NYC that is run by unpaid-volunteers and operates entirely from donations, predominantly from generous technology-driven organizations including EnterpriseDB, Microsoft, Aerospike, Greystone, Oracle, UBS and Gilt Groupe.
Contact